Washington Wizards 2013-'14
Updated: September 25, 2013
As the Washington Nationals wrap up a disappointing season this weekend, the Washington Wizards tip off their campaign. Media Day is scheduled for Friday, with training camp beginning Saturday at the George Mason Patriot Center.
The direction of the franchise will be determined this season, at least when it comes to team management. Embattled General Manager Ernie Grunfeld probably needs to make the playoffs to remain and head coach Randy Wittman is in the second season of a two year deal. Team owner Ted Leonsis is likely to make changes if the team doesn't live up to heightened expectations.
The Wizards moved quickly in the offseason to establish their 2013-'14 roster, but injuries have once again cast an ugly shadow. Starting center Emeka Okafor and forward Chris Singleton are sidelined with injury. Okafor is out indefinitely with a herniated disk in his neck. Okafor is rehabilitating through physical therapy and doesn't believe surgery will be necessary. Singleton broke a toe in his left foot while working out at the Verizon Center and will miss six to eight weeks.
The Wizards focused on adding perimeter shooting and backcourt depth in the offseason. Free agency brought backup point guard Eric Maynor and stretch forward Al Harrington. The NBA draft netted small forward Otto Porter and swingman Glen Rice Jr. Will the Wizards regret passing on big men Nerlens Noel and Alex Len with the number three overall selection? The team was proactive in re-signing key free agents, bringing back projected starting forward Martell Webster and combo guard Garrett Temple. John Wall was also extended a maximum contract, cementing his stature as the face of the franchise.
Post (C/PF)
The injury to Okafor really hurts, especially with the injury concerns Nene has faced in recent seasons. For now, Nene slides over from power forward to center opening up a training camp battle for the other starting spot in the post. If Okafor doesn't appear to be returning quickly, the team may be forced to trade for another veteran big man. The team would probably try to move Trevor Ariza if such a move is necessary. Harrington is a possibility at the four, but at this stage of his career is far better suited for a bench role. Jan Vesely showed improvement in summer league and European play and may be the best option as he has the highest ceiling of all comers. Trevor Booker is a natural power forward, but may not be enough of a threat on the offensive end. Kevin Seraphin has played very well at times, but his skill set may not be the best mix to pair with Nene.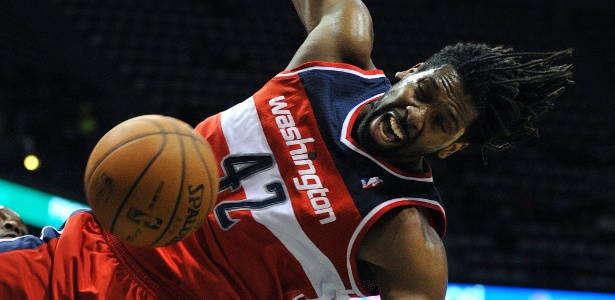 Wing (SG/SF)
The Wizards appear loaded at the wing, even with the injury to Singleton. The Wizards paid a premium to retain Webster, but he earned it with solid play last season. Retaining Webster also allows the Wizards to take their time with Porter. Selected as a potential third cornerstone of the franchise, Porter is not flashy, but is the ultimate team player and should eventually make those around him better. Fellow rookie Rice brings the glitter that Porter lacks. Rice showed exciting potential in the D-League and has the chance to be a very solid NBA swing man. Last season's starter Ariza also figures here, bringing solid defense and streaky three point shooting. With a big expiring contract, Ariza could be a very nice trading chip at the deadline, if he isn't needed sooner to acquire another post player.
Guard (PG/SG)
The Wizards have as fine a young backcourt as any franchise in the NBA. Armed with a new contract, point guard John Wall is poised for a breakout All-Star season. Alongside Wall is shooting guard supreme Bradley Beal. Beal really came on last season, but was plagued by injury. Regardless of what happens underneath, expect lots of excitement from this tandem for years to come. Wall's injury last season exposed the team's lack of depth at the point and the team addressed that quickly in free agency with the addition of Maynor. Maynor is a major upgrade over last season's options, but not if he has to start for extended periods of time. Combo guard Temple is the most underrated player on the roster. Temple can fill in at either guard spot, may end up as Beal's caddy, a defensive stopper at a minimum. Look for the plethora of swing options like Webster, Rice, Porter and perhaps even Ariza to see time at the two spot.
Despite entering camp with the NBA maximum 15 players under guaranteed contract, the team has added four players for camp depth.
Pops Mensah-Bonsu- The 6'9″ former George Washington star has spent the past two seasons playing overseas.
Xavier Silas- 6'5″ shooting guard out of Northern Illinois arrives via the D-League.
D'or Fischer- 31 year old, seven footer has toured European leagues after playing at West Virginia.
Josh Childress- 6'8″ Stanford product was selected sixth overall in the 2004 NBA draft.
Tom Blaz is a co-owner of the DC Sports Report and The Recruiting Eagle, which focus on Athletics at Auburn University. You may follow Tom on twitter at #RecruitingEagle